Baby Trend offers a wide range of baby gear and activity products that are safe and reliable, as well as affordable. They have been on the forefront of new and innovative solution that meet the increasing needs and demands of customers.
With PJM Distribution and Baby Trend, your customers will have more affordable options without sacrificing safety and quality. Discover more about Baby Trend's products below.
3-in-1 Bounce & Play Activity Center
The Baby Trend 3-in-1 Bounce and Play Activity Center is multifunctional— easily converting from an activity center, to an activity play table, then to a flat table for reading, coloring and more.
It is also designed with a 3-point leg support and an adjustable bouncing board, so your customers can have peace of mind while watching their children play.
Five unique toys are attached to the table, allowing the baby to learn and play at the same time. These toys are detachable and can be used as standalone toys as children grow.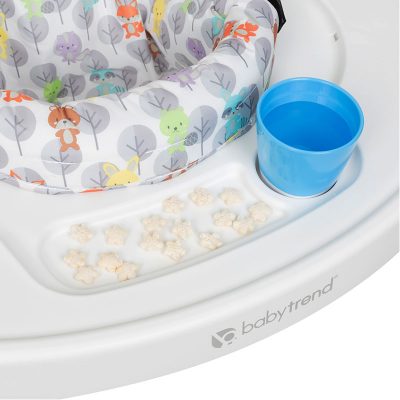 Baby Trend's Activity Center comes with 5 standalone toys that are designed especially for kids up to 15 months old. 
Age: from 4 months
Max Weight for the Activity Center: 30lbs/13.6Kgs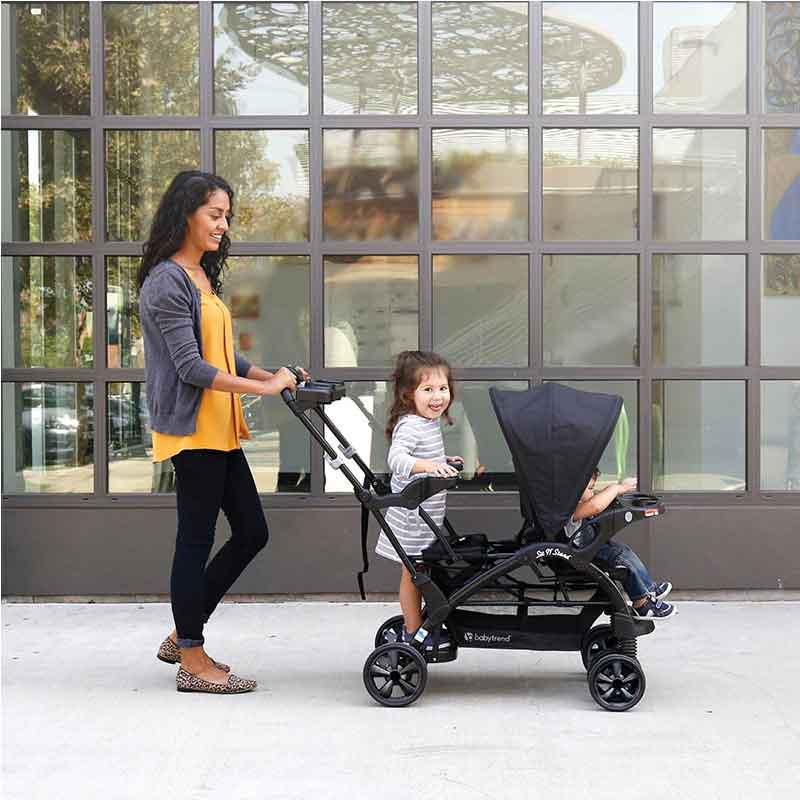 The Baby Trend Sit N Stand is a versatile stroller that accepts infant car seats in both the front and rear seating positions.
It has multiple forms of use – where one child can sit on the stroller seat and the other child can stand on the rear platform or sit facing their parent.
Equipped with safety features like the 5-point safety harness, foot-activated dual-rear parking brake, and locking wheels, parents can be assured of their child's safety at all times.
Finally, parents can stay comfortable and hydrated throughout the day with the stroller's dual cup holders and ergonomic handle.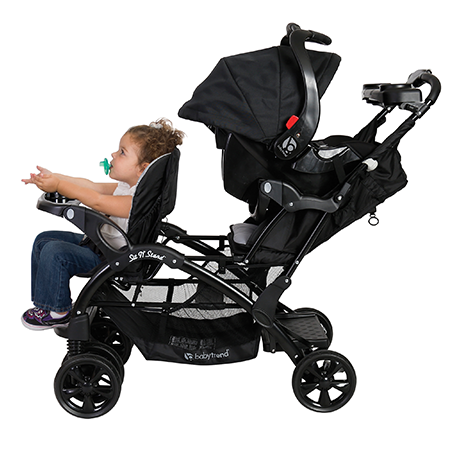 Having one child in the front seat and one infant car seat.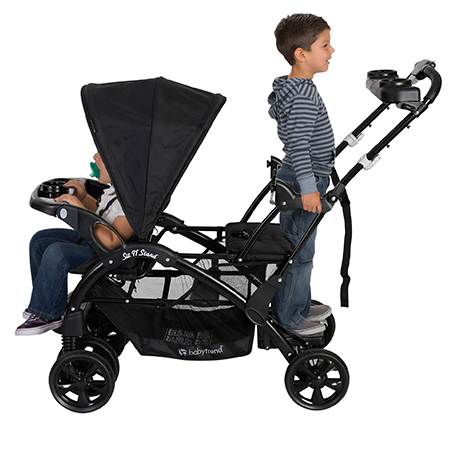 Placing one child in the stroller seat and the other one standing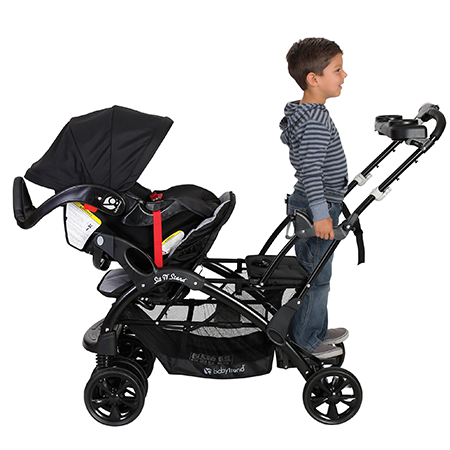 Placing your car seat in the front seat and having your older child standing on the platform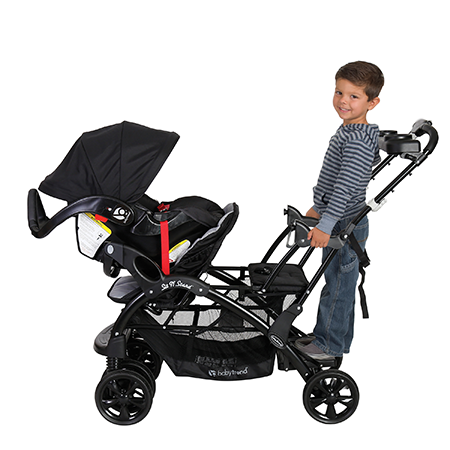 Combining the stroller with the infant car seat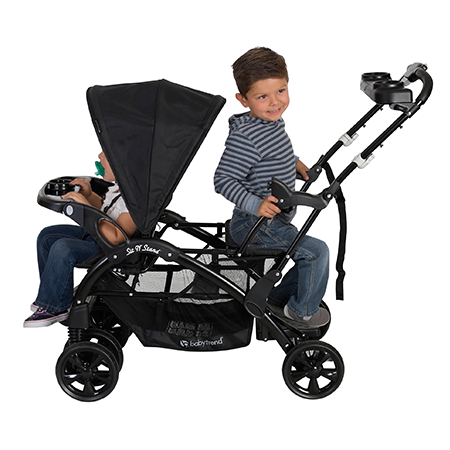 Sitting one child in the stroller seat and the other on the bench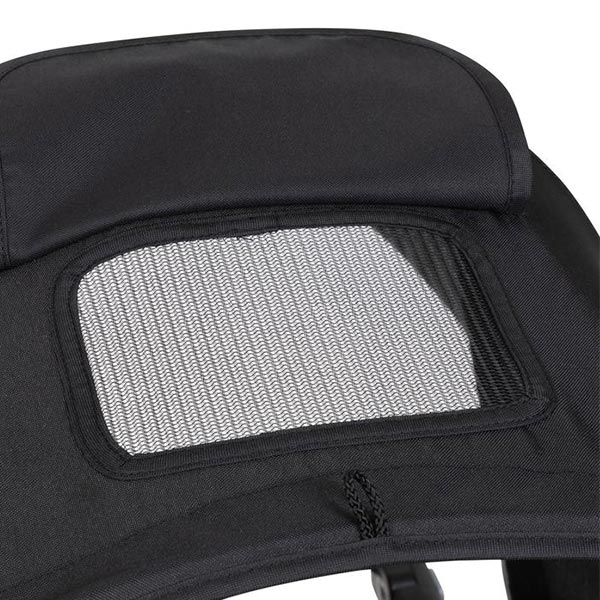 Color: Moonstruck
Front Seat:
Age: from 6 months
Max Weight: 40lbs/18Kgs
Jump Seat Platform:
Age: from 2.5 years
Max Weight: 60lbs/27.2Kgs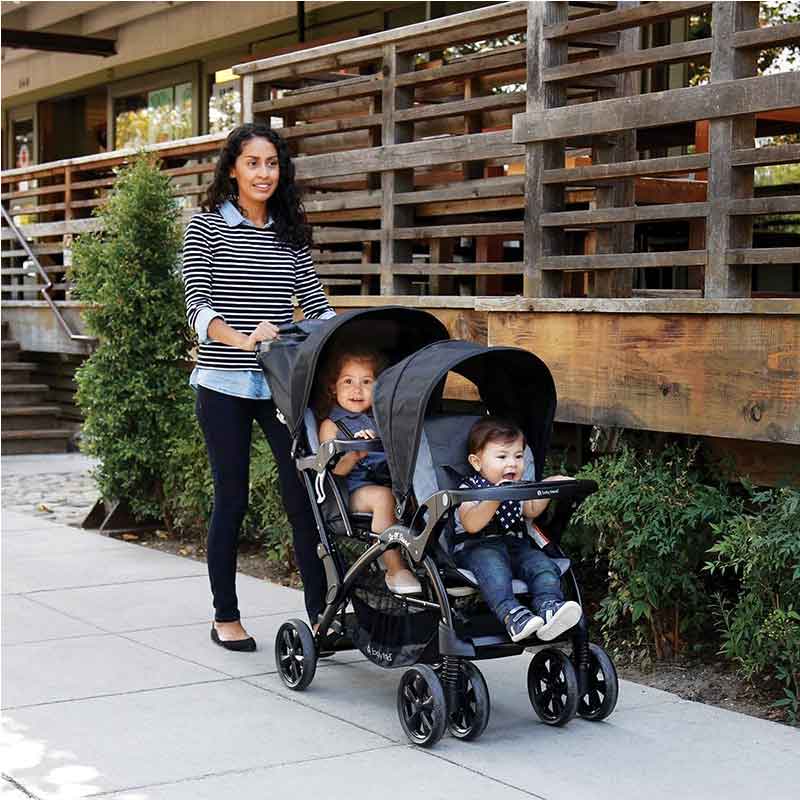 The Baby Trend Sit N Stand Double is the perfect solution for families with multiple children. It is equipped with two full-sized seats, a bench seat, and a standing platform. A 5-point safety harness is also in place to safely secure your customer's child and keep them safe.
Designed with removable seats, you can easily put any infant car seat and transform it into the traditional Sit N Stand. It also has an adjustable canopy and a large storage basket, making it the perfect stroller for walks in the park.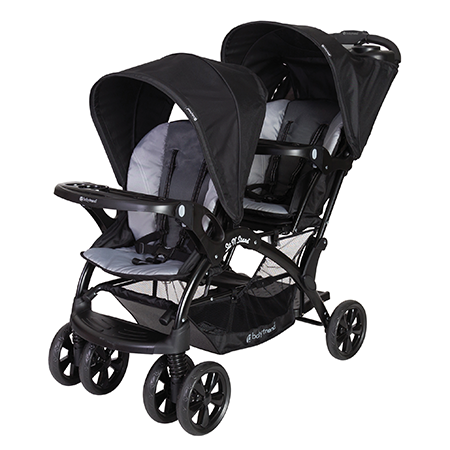 Color: Moonstruck
Front Seat:
Age: from 6 months
Max Weight: 40lbs/18Kgs
Jump Seat Platform:
Age: from 2.5 years
Max Weight: 40lbs/18Kgs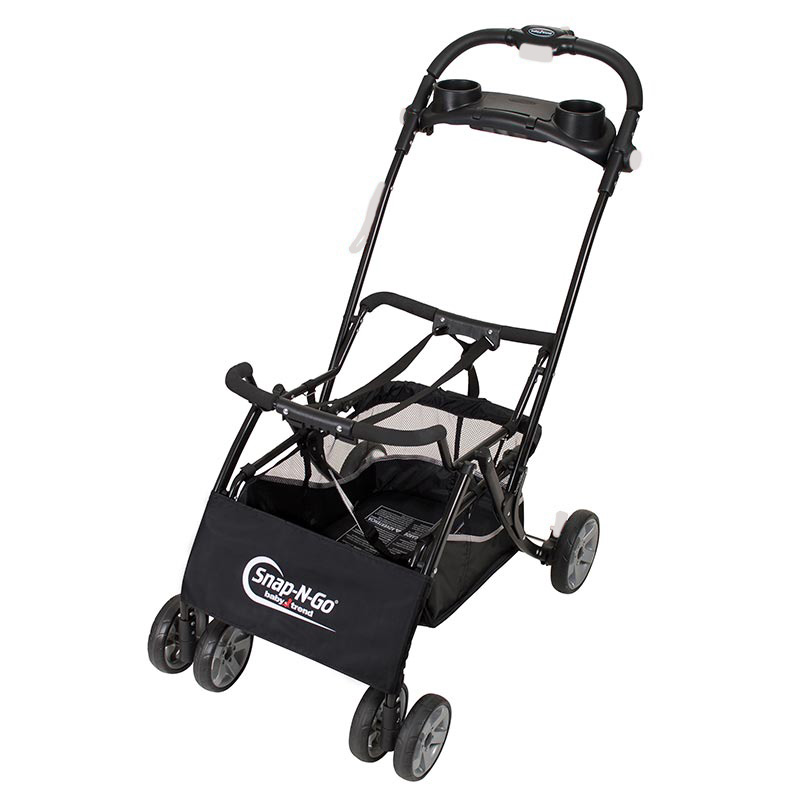 The Baby Trend Snap N Go is a unique stroller that fits most infant car seats, making it an easy and low cost method for transforming a baby's infant car seat into a lightweight and portable stroller. It is compact and folds easily with the press of a button and has a large storage basket for added convenience.
Compatible with most car seats including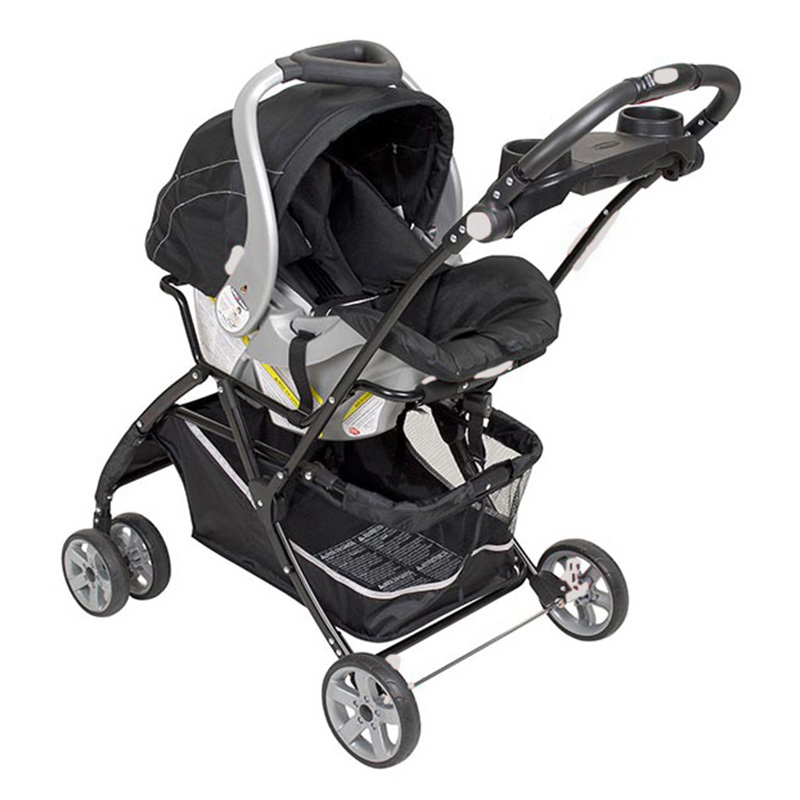 Color: Black
Max Weight: 45lbs/20.4Kgs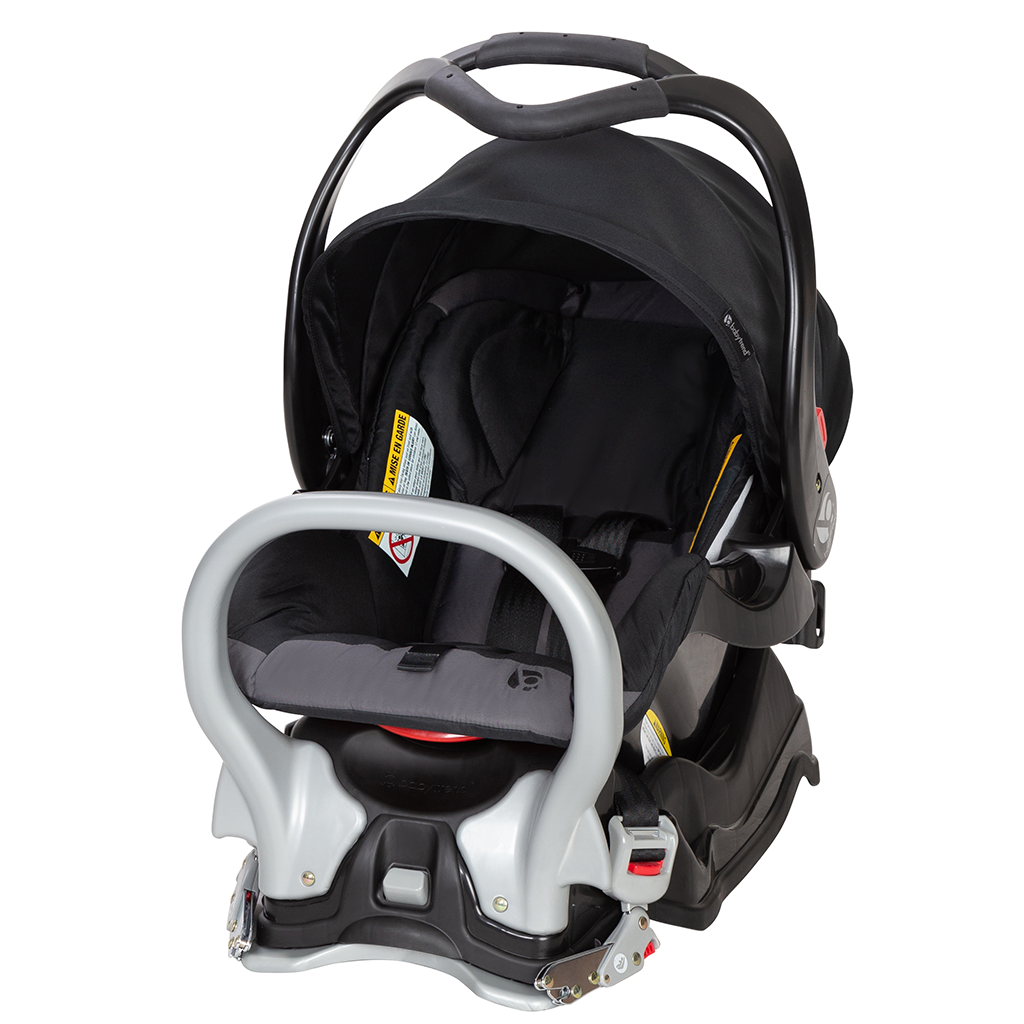 The Baby Trend Infant Car Seat is created with your child's safety and comfort in mind. It is designed with energy-absorbing foam for superior side impact head protection, a 5-point safety harness, and a LATCH system for easy attachment without the use of seat belts.
LATCH Equipped base
Adjustable base with level indicator
Delta multi-grip carrying handle
Soft head support
Anti-rebound bar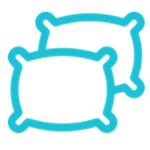 Comfortable and Soft Material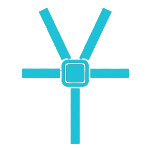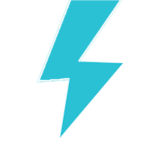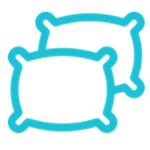 Comfortable and Soft Material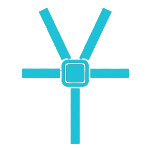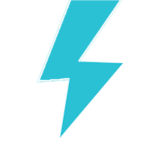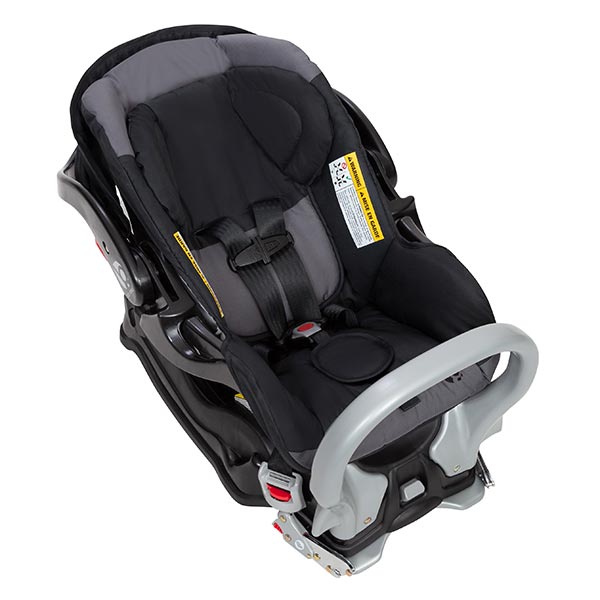 Color: Boulder
Max Weight: 32lbs/14.5Kgs
Max Height: up to 32"